I was honoured to be asked to write reviews again this year for the Ora King Salmon Awards.
I was keen to catch up with Sam and Severine Goslin in Whitianga at their new restaurant, Poivre & Sel, to try his entry, having really enjoyed his dish last year.
This year's is an absolute stunner – a visual knockout and a taste sensation.

The dish description read: "Ora King salmon confit. Cured for three hours, served with a celeriac and Périgord truffle puree, accompanied by a goat cheese and Espelette chilli ice cream."

Confit is French in origin, meaning 'to preserve', which has been a traditional French method of keeping food in storage for longer periods of time.

Today, a confit is any food that is prepared and preserved as it cooks for long periods of time with sugars, oils, broth, fat, wine, and similar food substances selected for the type of confit being made. Sam explains the process of Poivre &Sel's dish: "I cure the salmon in salt for approximately two hours in the fridge to remove excess water, then cook 'confit' in high-quality olive oil at 60-70 degrees for about three hours. The dish then requires a quick reheating in the oven at 200 degrees before serving."

The puree is made of celeriac crème fraiche and grated truffle from Tewnion Truffiere in Canterbury. The ice cream is a blend of fraiche goat cheese, cream and Espelette chilli instead of pepper; all created in an ice cream maker. Add a few slices of fresh truffle and it is ready for plating. This is an outstanding dish. The clever use of different textures and temperatures constantly has your tastebuds on alert. But don't take my word for it, get in to Poivre & Sel and try this dish for yourself – and don't forget to vote!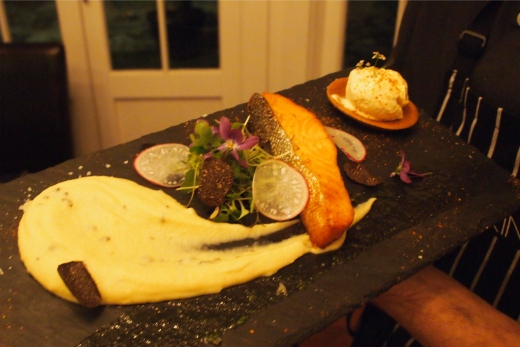 FISHY BUSINESS

New Zealand's own Ora King Salmon is revered around the world by discerning chefs. It's not surprising the product has gained such wide acclaim, considering how carefully they are produced.

Ora King Salmon are grown sustainably in the deep, cool waters of the Marlborough Sounds. With worldwide demand for seafood increasing, aquaculture is a highly efficient use of the marine environment. It takes the pressure away from ocean fishing and is a means of providing the world with valuable and nutritious protein.

Ora King is to salmon as wagyu is to beef. The highly prized Ora King salmon is itself a rare luxury, which makes up less than one per cent of the world's salmon species, giving it a luscious, elegant texture and rich taste – you can definitely tell the difference.

A natural approach to husbandry, and nearly two decades of classical breeding and world leading intellectual property, ensures the selection of the finest stock in terms of size, colour and flesh quality.

Ora King Salmon, three ways.

QUALITY CONTROL

Each salmon is reviewed by master graders and if it doesn't meet the highest level then it doesn't go on to become Ora King salmon: truly the best of the best.

Ora King has the highest natural oil content of all salmon – a naturally rich source of omega 3s. A 150g portion of this fish provides the complete daily requirement of omega 3 (I cannot think of a nicer way to get your daily intake).

Added to the health benefits, Ora King salmon looks stunningly distinctive. Its fantastic texture is buttery and soft, without excessive fat. It cuts easily due to its unique muscular structure, is light in the mouth and coats the palate delicately making it a real pleasure to eat. It is easy to pair with other ingredients, rendering it visually appealing, or as I say, perfection on your plate.

Thanks Sam and Severine for a great night. We will certainly be back to try the rest of your delectable menu. Next time you're out for dinner, make sure you ask for Ora King salmon!

SunLive has a $100 voucher for an Ora King-inspired dinner at Poivre & Sel to give away to a lucky reader who can tell us what Poivre & Sel translates to.

Enter online at SunLive Competitions. Entries must be received before Wednesday, August 26.