Culinary Conversations
with Peter Blakeway
Food writer, caterer and private chef
If it's winter then it must be time for the Seriously Good Food Show at ASB Arena – and this weekend that's exactly where I'll be as master of ceremonies for the Audi Kitchen Theatre.
We'll have 10 exceptional chefs taking simple ingredients and turning them into the extraordinary. Come along and join in the fun.
At the Seriously Good Food Show we all get to celebrate food, which leads me to thinking about celebration food. So here goes.
As ham is usually eaten for a special occasion, you can afford to splash out on a really high quality ham and encourage the good farmers out there to carry on doing the excellent job they do.
It isn't easy to find raw ham these days but is worth the effort. If you can't find one then use a cooked one, but miss out the first two steps of this recipe's method.
And lengthen the oven time to one-and-a-half hours and reduce the oven temperature to 160 degrees Celsius.
Always look at a leg of ham from the perspective of it being a leg – if it doesn't look like it could walk, then don't buy it as it probably means it has been pumped with water, or worse! Also, check with the butcher whether it needs soaking and for how long. The best hams will probably need soaking in fresh water for a few hours or maybe overnight.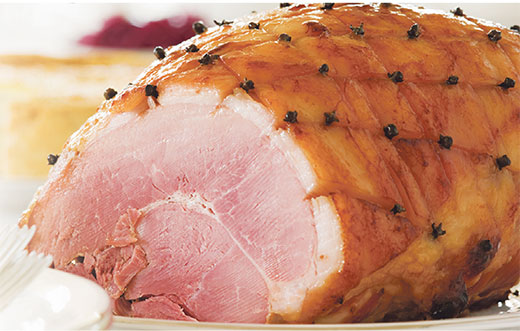 Roast ham with spiced apple chutney
Serves 25
Ingredients
1 raw half ham (about 5kg)
Red wine
25 cloves
100g honey or apple syrup
100g dark brown sugar
Method
Cover ham with water in a large pan and bring to the boil. Simmer for 20 minutes per 450g plus an extra 15 minutes. Remove from the pan and trim and score the fat. Stud with cloves. Cover with apple syrup and sugar. Pour over red wine.
Roast at 190 degrees Celsius for about 45 minutes or until golden brown, basting regularly. Serve hot or cold with apple chutney and salads.



Spiced apple chutney
Ingredients
900g apples, peeled, cored and grated
350g brown sugar
225g sultanas and raisins
25g ground ginger
25g garlic
50g mustard seeds
420ml spiced vinegar
420ml white vinegar
Method
Place all the ingredients in a large pan, bring to the boil and cook for at least two hours on a medium-low heat.
Take off the heat and then allow to cool a little.
Spoon into sterile jars with twist-top lids.
Do not use for at least six weeks.