Peter Blakeway
Food writer

As a chef, you know winter is approaching when you've done the last wedding
of the season.

For me that was two weeks ago, so we're now well into that seasonal no-man's-land where we can feel winter is just around the corner but it's not cold enough to light a fire.

Our bodies are starting to crave the winter comfort foods but our gardens still have some salads growing. So here are two recipes that have the hot autumn day and the cold pre-winter day covered – and both with the same basic ingredient.

It's so important to tailor our food to what we actually need instead of just following the latest media fad.

This all got me thinking about food and food television.

What we eat is supposed to be fun and happy – not scary and the competitive sport that it is being portrayed as on our television screens. Delving into our food roots has reminded me at the end of the day it really is all about flavour. Take simple good product, treat it well and enjoy the flavours.

We all now live in a world of instant decisions and instant results, where time is a precious commodity not to be wasted lightly.

And I guess one of the biggest casualties of this is our food habits.

Good flavour is the Holy Grail of cooking and takes time to search for and develop.

Red wine and Earl Grey poached nashi pears

Nashi pears hold their shape really well, as long as you don't allow the liquor to boil once the pears have been added.

Serves 4

Ingredients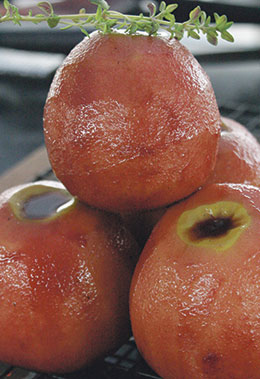 4 nashi pears
1 split Heilala vanilla pod
1/2 bottle Squawking Magpie Syrah
120g sugar
1 pinch saffron
1 Earl Grey tea bag
Zest and juice of 1/2 orange
1 bunch fresh thyme
125g butter

Method

Add all ingredients except the butter and the pears to a small casserole pan. Bring to the boil, then turn down to a gentle simmer and add the nashi pears. Simmer for about 35 minutes or until tender.

Remove the pears and reduce the liquid by half. Away from the heat, add the butter and agitate for a while. Put the pears back in and leave until ready to serve. Warm is the best temperature to serve this dish.

Nashi pear, walnut and blue cheese salad

Ingredients

1 ripe nashi pear
3 Tbsp walnut oil
1 tsp Comvita Honeygar – a honey-cider vinegar mix
Freshly ground black pepper
2 handfuls mixed salad leaves
2 Tbsp walnut pieces, toasted
100g Mount Eliza blue cheese
2 slices sourdough bread – try Flaveur bread from the Mount
1 tsp freshly chopped parsley

Method

Heat oven to 180 degrees Celsius. Toss walnut halves in half a tablespoon of walnut oil and toast on a baking tray until golden and crunchy. Allow to cool.

Peel and halve pear, removing core. Slice thickly into a bowl with two tablespoons of walnut oil and vinegar.

Grind over black pepper and leave for half an hour to marinate.

Wash and dry salad leaves.

Using a hot knife, cut cheese into cubes and leave to soften slightly.

Brush bread with remaining walnut oil and toast under a hot grill.

Gently toss salad leaves, walnuts, cheese and parsley with pear and juices.

Serve on plates with warm artisan Flaveur bread.