Born in Auckland in 1971, Bryce has been painting and exhibiting since 1999. He is a full time artist and has had eight solo exhibitions to date.
His work is in private and public collections in New Zealand, Europe and the USA including the John Deere Art Collection in Moline, Illinois (2005) and Foodstuffs New Zealand for Nga Potiki Iwi of Papamoa, NZ (2010).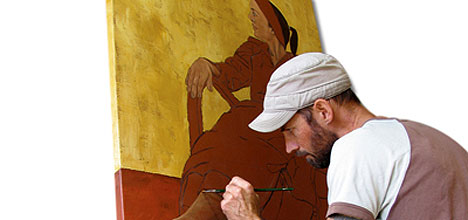 Bryce Brown painting 'From Afar'. Acrylic on canvas 1220mm x 910mm 2010
Bryce is about to launch his book, Bryce Brown Paintings 2005-2010.
The book has an extensive number of colour reproductions of his paintings and commentary on the process and the various themes he has explored over this period.

"This is a reference and guide to my last five years work, which is typically Bay of Plenty, and often intended to increase interest in local historical events (Gate Pa, Te Ranga, Tarawera, significance of Kaitiakitanga, etc)," says Bryce.
"I have school aged children (5-16 years) and am aware of the importance of art and local knowledge of history and stories."

"I'm 40 in March, approaching a time in life where I feel like I'm really beginning to notice things around me, moving at a pace that literally allows me to slow down and smell the coffee!


'Heeni Gate Pa' Triptych 510mm x 1530mm. Acrylic on canvas. 2010 Commission for a Belgian collector.
"I thought it was high time to process the last five years' work and put that into a simple format that's enjoyable and easily read by people of all ages."
Bryce is now a resident artist at the Art Hub, behind the Laundromat Art Project Space on 2nd Avenue in Tauranga.
He is there painting, planning or researching most days and visitors are most welcome by appointment.
This piece, as the title suggests, is based around the extraordinary life of Bay of Plenty heroine Heeni Te Kirikaramu of Te Arawa who is closely associated with the Battle of Gate Pa.
The book will be launched in time for this year's Tauranga Garden and Art Festival. Copies will be available from Garden 19 in Omokoroa and also from Creative Tauranga.
There will be a book launch at the Laundromat Art Project Space this Saturday, November 6, 11am to 4pm with an introduction at 1130am.
Contact Bryce and RSVP by email at info@brycebrownart.com.
Pete Morris is an occasional painter and art lover. He is a free lance writer with a particular interest in promoting the visual arts in Tauranga.