The media's in a frenzy right now, not about the Te Puna West sewage reticulation scheme, but something much headier.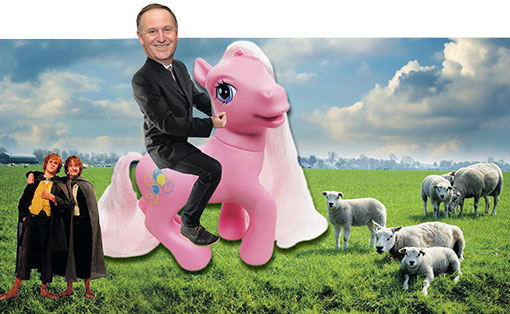 Ponytailgate it's been dubbed. Apparently the most shocking thing has been revealed about our Prime Minister that eclipses all other scandals in the history of the world.

Something so sinister and appalling that we even have difficulty putting it in words.

No, he hasn't sanctioned the genocide of millions.

Or like former leaders of the most powerful country in the world, had a blow job from an intern. Nor has he fallen from grace in some bribery and corruption scandal.

Oh no, our Prime Minister has been known to pull the odd pony tail.

Now I will understand if you need a few minutes to comprehend the seriousness of this. Here, take a moment to gather your thoughts and regain some composure.
I know, it's a lot to handle, and I'm sorry we had to break it to you this way. But really there is no other way to face up to the facts, to put it right out there. The leader of our country is probably a Serial Hair Tugger.

Frothing and flapping

The left wing are, of course, in a complete flap over this shocking revelation. Andrew Little was just about frothing at the mouth, at the prospect of finally having something over Key.

The right wing are thinking: 'Crikey, is THAT all the dirt they have on him?'

The rest of us, in Middling Confused Voter Land, are just dumbfounded that this can dominate the news for days on end.

It reeks to me of some minion troublemaker, who has discovered she wields a bit of power and attention after riding along with a bit of horse play.

And an Opposition so desperate to rake the slightest bit of anything questionable (Pin a Tail on a Johnkey) because they can't find any other meaningful or serious chink in his slick political armour.

The international media have been feeding on this; not because of its seriousness, but because the rest of the world likes to portray New Zealand as a backward, quirky an oddball little place, tucked away harmlessly at the bottom of the world with a few sheep and some rampant hobbits.

Merciless mocking. We are seen as the Deliverance of the South Pacific, only without the squealing pigs.

We do, however, appear to have the odd squealing waitress who is quite capable of speaking out to hordes of media but apparently didn't tell her boss, or stop John and Bronagh from getting a bit cheeky.

It will be a sad day if the PC nannies drive us back to the dark humourless days of previous administrations, when the feminist gay nazi brigade tried to dictate every aspect of our lives, including the length of our shower times.

Mondayise it

I vote we immediately instigate National Hair Pulling Day. A day off.
It could become a worldwide phenomenon and a massive tourist drawcard. Just like Pamplona's Running of the Bulls, NZ can have Jerking of the Locks. Pulling of the Pony.
Meanwhile, back in Dullsville, we have much more mundane issues to deal with.

Such as the aforementioned sewage scheme, which may finally solve some long running issues for Te Puna. And it's only been 20 years!

The full, heart-wrenching and unabridged Rogers Rabbits' take on this is far too monotonous, considering the current media frenzy thrashing around a tormented waitress' tale. But on the off chance you need a mundane distraction, we'll post it on SunLive under this column. See https://sunlive.co.nz/blogs/8171-its-taken-20-years-to-get-our-sh-together.html

Till then please remember this weekend, those who fell in defence of our freedoms and what they were standing up for.

It sure as hell wasn't for some of the complete nonsense we've seen this week.

Parting shot:

Speaking of leadership faux pas, here's a timely piece sent by a persistent reader:
"As we get closer to the 2016 election year, US citizens must remember that they cannot trust Hillary Clinton to create American jobs. The last time she held a meaningful job, she outsourced it to Monica Lewinsky….and Monica blew it."

Complaints to: brian@thesun.co.nz

More bad taste: Facebook 'like' Rogers Rabbits'.