Beautiful You
by Suzanne Edmonds
Each week, beauty enthusiast Suzanne Edmonds explores the best ways to take care of ourselves so that we love the skin we're in.
We rely on them every day to carry our bodies around. We expect them to never fail us and to always keep up the pace without stumbling or falls.
But our feet need care if they're to stay looking and feeling healthy.
When our feet hurt, we're often irritable and too many of us put up with pain in our feet, whether it's because of blisters, callouses, hard skin, cracked heels, or toes nails that need more attention.
Foot health is integral to the overall health of our bodies. If our feet are painful, we'll change the way we walk on them, developing bad habits in terms of posture and gait. We may start a slight limp to compensate and take the pressure of our feet, which in turn can have real affects on our muscles, joints, back, ankles and hips. The alignment of virtually everything in our bodies relies on the good health of our feet.
While a podiatrist would be the right person to seek out for more serious issues, regular trips to a salon for a pedicure can really help you improve and maintain your foot health. A salon can ensure that hard skin is banished and that toenails are the right length, clean and comfortable.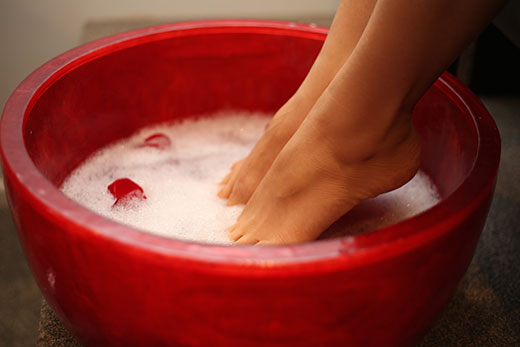 Pedicures usually involve a good soak in warm, soapy water. Sanitised bowls are often the cleanest way to do this, but some salons opt for spas that bubble away. While the spas are nice, special attention needs to be paid to the hygiene of the mechanism in them to rid of the bacteria that can breed there. If you have concerns, ask if a fungicide is used after every client.
The soak should be followed by a gentle file on the hardened skin. Notes, too much filing can be a bad thing. The only skin that should be filed away is the dead skin, not the foot-protective skin. Pay attention where the files have come from and whether they have been thoroughly sanitised- a sealed, sanitised packet is best practice. Hardened skin can provide a lot of discomfort, especially if it's cracked on the heel and so regular filing and moisturising can bring this problem to an end.
Nails should be filed and shaped. Polish can be applied throughout the year, of course- there's nothing like beautiful red toenails even if only you know about them in your winter boots. But if you have worn polish on your toenails for a long time, you might give the nails time to rest over winter. White spots on the nails and discolouration are a sure sign that they need a rest from polish and the colder months are the ideal time to do this.
Moisturiser is usually then massaged into the feet at the finale. It's very common to miss out feet when we're moisturising. Feet just lap it up and regularly doing this will help put paid to the hard skin, as well as reduce callouses.
In between pedicures, it's a great idea to soak and moisturise your feet in the comfort of your own home. Simply find bowl you can dip them in while you're watching television. Dry and apply moisturiser. If you're feeling particularly diligent, give them a quick file over heels and balls of the foot after the soak and before applying your cream.
So when your feet are hurting, remember the song your "foot bone's connected to your heel bone" and don't ignore sore feet!
Suzanne Edmonds is owner of De Lux salon in Cherrywood, Tauranga.
Giveaway!
We're excited to be giving away a luxurious pedicure at De Lux Beauty Salon, worth $69.00, to readers of this blog. To enter to, just email us at deluxbeauty@gmail.com with a topic that you'd like us to write about over the coming weeks. We love to hear from you!