Paul Pou
Youth Team Leader
Sport Bay of Plenty

Pathway 16-20 is a three year collaborative 'Active Communities' project in the Western Bay of Plenty between Sport Bay of Plenty, Tauranga City Council and Western Bay of Plenty District Council, District Health Board and Sport NZ.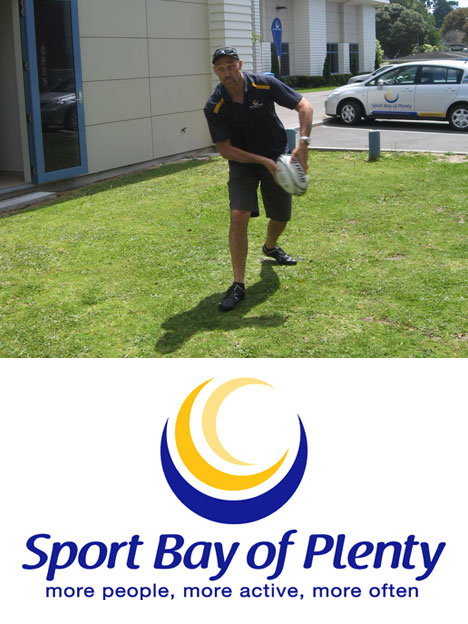 It engages youth that have become dis-engaged, and empowers them through sport, developing skills, attitudes, competencies and values for life.
Pathway 16-20 is not a short term programme, but a long term approach that offers youth involved a range of opportunities ranging from motivational fitness sessions, coaching sessions, volunteering in the community, mentor sessions and opportunities to gain work experience.
Youth can be referred to the programme by visiting our website or though several government or community organisations. Each participant on the programme is interviewed and an individual plan is produced, which the participant follows with support from Sport Bay of Plenty youth staff.
Sport is a great way of engaging youth, the skills that sport teaches are applicable to life, and is a great vehicle to teach life skills needed as it can cover all aspects of learning styles. In the programme we also use fitness and team building sessions to deliver key life messages to the group.
You have the opportunity to be involved in this fitness session, are you going to make the most of this opportunity or are you going to let this opportunity slip away? Just like in life, opportunities will present themselves and this applies to your life.
The changes we have seen in the youth have been pleasing; they are all at different stages of their development but are all working towards achieving their goals as itemised in their individual plans.
It is through the motivational, fitness and team building sessions that we see these individuals grow. The leaders present themselves when the opportunity arises and they evolve as leaders as a result and are provided with on going leadership training.
As Pathway 16-20 is a programme that works collaboratively with community organisations that engages youth that have become dis-engaged, these are often those that society then labels as 'youth at risk'. There is much more risk in excluding the youth from society altogether so it is important to get them back on track and being useful members of the community.
When is society going to acknowledge that the social system is not for everyone, for example let's look at schools?
Not all youth can remain focussed up to six hours a day in a classroom, yet we expect these youth to abide by this and sometimes they are seen as disruptive in class which can create a negative environment for the youth and again the downhill spiral commences. Often a lack of resources can prevent schools to have a flexibility to deliver a variety of lessons to meet the individual student's needs and unfortunately co-curricular activities such as sport which can offer an environment to keep students engaged is not recognised as a vehicle for these young people.
After seven months of actual delivery to dis-engaged youth, I find myself asking the question "has this intervention made a difference to the lives of those who have become involved in this programme?"
I was very fortunate to spend seven days at Outward Bound in July 2013 where I had time to reflect on my life, and I am at ease for where I am currently in my life to where I could have been if I had not be given the opportunity to become involved when I was younger in very similar engagement programme at Waipareira Trust.
This programme gave me the direction, drive and passion to make the most of the opportunities when they present themselves. Based on these experiences the questions I find myself asking now are;
Are we doing the right things by these youth?
Is the programme making a difference to those involved in the programme?
I am pleased to say that the answers to these questions are yes. When I look at the data we have collected over the seven months of delivery the figures are pleasing.
10 participants have gained employment. (part time, fulltime employment)
12 have re-engaged to complete their NCEA level 1, 2 and 3's.
All programme participants have volunteered at community and either community or school events.
12 youth have completed drug and Alcohol education programmes
5 have completed leadership training
The most pleasing aspect has been the transformation of several youth that were previously abusing drugs, alcohol and smoking cigarettes. We have video footage of the changes they have made to their lives as a direct result of being involved on the programme and they are making positive steps to making the right choices in their life.
For more information about Pathway 16-20 please contact Paul Pou on 07 578 0016, 027 6546545.