| | |
| --- | --- |
| | Arts Insight |
Housed in Baycourt is an amazing musical instrument from an era of musical creation and technology long gone. This amazing 87year old instrument was built to accompany silent films.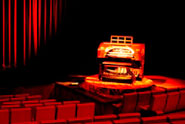 Sunday August 4th @ 1.30PM join us at Baycourt as New Zealands premier silent movie organist Ron Clark accompanies 2 classic silent comedies Laurel & Hardy's "Two Tars" and
Buster Keaton's 'Our Hospitality" and see the Mighty Wurlitzer in action.
Bookings at: https://www.ticketdirect.co.nz/event/details/75274/lets-go-to-the-movies
The Baycourt Wurlitzer Theatre Pipe Organ is one of 3 such instruments currently installed in New Zealand and the only one installed in a Performing Arts Centre.
Built in 1926 as a 'Unit Orchestra', the Wurlitzer organ is capable of replicating an entire orchestra with its many sounds and effects, all playable by one person from the 2 keyboard console. For the 1920's the Wurlitzer organ was a revolutionary musical instrument and very cutting edge for its day and in today's terms is the 1920's version of MIDI (musical instrument digital interface) technology.
So what are some technical facts about this organ:
Baycourt Wurlitzer is the 1482nd of the total 2238 organs built by Wurlitzer between 1911 & 1947.
The organ comprises of 11 sets of pipes (ranks) thus making it an 11 piece orchestra. - A total of 791 pipes. These are housed in 2 glass fronted rooms (chambers) one each side of the front of the auditorium.
There are 16 mechanically operated percussive instruments (including a real piano, drums, and cymbals).
There are 8 mechanically operated sound effects – for silent films and general effects
There is just over a total 200KM of electrical wire throughout the organ to connect all the components to the relay, chambers and console.