Daniel Hutchinson
From The Hutch
There are a few burning issues facing humanity at the moment but the biggest conflagration locally is the roll out of wheelie bins and other receptacles by the Tauranga City Council.
Curiously the designers have managed to use all of the primary colours plus two other colours in its wheelie bin palette. This is to make it easier for people to understand their new rubbish regime but urban design aficionados in fancy suburbs must be wrinkling their noses.
While some will welcome their new collection of plastic bins and have already constructed a small utility building to keep them in, others are less than amused.
There are already reports of people refusing to accept them and prepared to engage in prolonged debates on the roadside with those who are charged with handing them out.
Perfectly nice and otherwise dignified people are telling the wheelie bin version of Santa Claus to 'bugger off and take your bins with you'.
Now, while this might seem like a perfectly acceptable thing to do in the heat of the moment, the reality is that people are still be charged for these bins, whether you use them or not.
So, for those who already compost their green waste and have no hope of filling two giant bins with rubbish and recycling, I have a better solution than simply refusing to take them.
Waste not, want not
In fact, after doing an intensive global study of this very issue, I actually have heaps of solutions.
You see, in other parts of the world, and even other regions, wheelie bins – especially big ones – are a valuable commodity.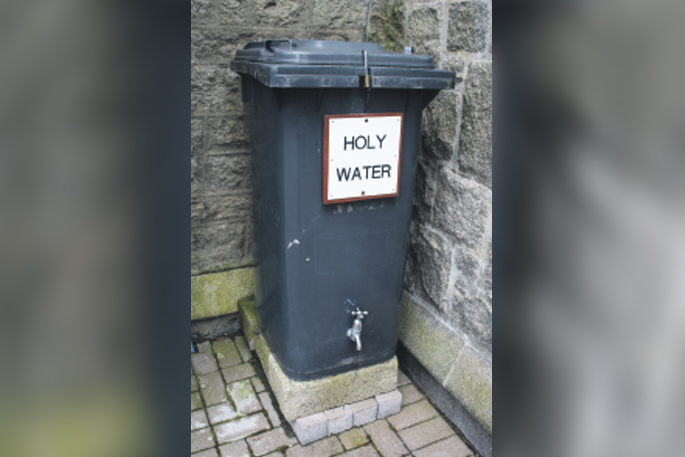 This is nothing new in New Zealand. For example a Scarfie at the University of Otago who "owns" more than one wheelie bin has a considerably elevated status over their peers. They are actually a form of transport and a great way to move large quantities of beer around.
For more inspiration I suggest you head to www.accidentalsmallholder.net where there is a thread of conversation with about 100 different uses.
Probably my favourite use comes from a Yorkshireman called 'Plantoid' who suggests using your largest bin to hide from police helicopters and their infrared night detection devices.
Little Blue from Derbyshire has a completely different system to that which was envisaged by her council.
She uses the rubbish bin normally – for all the stuff she doesn't recycle, reuse or feed to the goats. The compost bin is dedicated entirely to the storage of goat feed. She even bought a bright blue one off ebay to store the chicken feed in.
Bins are 'not just for hippies'
Still in the UK, about four years ago the Bradford Council started charging for its previously free garden waste collection service.
Only about one-third of people opted into this, leaving about 55,000 surplus bins rolling around.
On the website www.recyclethis.co.uk Louise says the bins are now used for all sorts of things.
"And they're not just for grow-your-own hippies like me: I know other people who use them for storing kids' garden toys, sports equipment and patio cushions out of season.
"I've seen them cut in half to be used as planters or wheelbarrows, and my old neighbours in Leeds even once transformed an old wheelie bin into a go-cart!"
In other parts of the world, wheelie bins have been converted into portable sound systems, beer coolers, planters and rainwater storage systems connected to the spouting.
Athletes use them as ice baths on the sidelines of American Football games and conversely they make excellent single person hot tubs.
One person even claimed to have seen a wheelie bin converted into a quad bike trailer which was big enough to transport a pregnant ewe. Genius!
And in a completely ironic twist, a blogger called Mad Goatwoman had to buy a bin especially, because her council only provides flimsy plastic bags.
She is sick of these bags and other rubbish blowing around the neighbourhood on rubbish day so she uses her bin to store the mess.
Anyone thinking of entering the Sustainable Art Challenge might be able to take inspiration from the fact that – yes, you can dress appropriately in a wheelie bin.
daniel@thesun.co.nz