Pete Morris - Art Blogger

Pete is an occasional painter and an art lover. He is a freelance writer with a particular interest in promoting the visual arts in Tauranga.
Local artist Duane Moyle was born in Tauranga in 1977 and studied in Auckland and London to gain his MA in Fine Arts. He returns to the UK in March to continue with his painting and to further his studies.

Duane's new series of 10 paintings delves into the history and cultural significance of the geography of Tauranga, utilising traditional Maori motifs like the tukutuku 'x' patterns as well as using European and colonial landscape painting styles and traditions.
The paintings continue Duane's personal explorations into ideas of craft, our area's history and the still sacred places we now inhabit in the Tauranga area.
Each painting references a specific event or era of Tauranga's colourful history.
Landscape images are superimposed on top of tukutuku structures to explore pattern, cross cultural ideas, picture making and story telling unique to Aotearoa.
In 'Te Manuwhakahoro (Birds or Kites Made to Fall)' we see the setting of a massacre that happened on the beach in front of the place we know as Mt Drury (Hopekiore). The Maori kite form in tukutuku behind the familiar landscape depicts an integral part of this gruesome story where some of the inhabitants of Mauao were tricked into a trap before meeting their fate.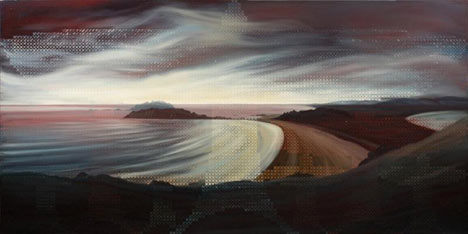 Te Manuwhakahoro (Birds or Kites Made to Fall) 900x1800mm. Oil on board.

Another picture in the series, 'Te Takahi o Ngapuhi (The Approach of the Ngapuhi)' shows the view from the Ngapuhi canoes as the heavily armed invaders from the north paddled along Pilot Bay approaching the local Ngai Te Rangi Pa on Mt Maunganui (Mauao).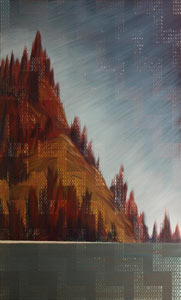 Te Takahi o Ngapuhi (The Approach of the Ngapuhi) 1260x760mm. Oil on board.
The resulting battle and lost of life is yet another part of the colourful, sometimes bloody history of our area.
This sacred ground is where we now live, work, walk and play; the very same seaside paradise and holiday destination known as The Mount and Tauranga city.
These paintings ask us to take time to reflect on what came before us and to find out more about the history of the people who lived their lives here all those years ago.
Duane's new series will be exhibited at Fisher Brown Gallery, 9th Avenue from March 6-20.
You can find out more about Duane and his art at
www.duanemoyle.com
or
https://duanemoyle.wordpress.com