Winston Watusi
Music Plus
It seems a long time since I've written about Bob Dylan.
No doubt that has caused rejoicing amongst the many of you fine readers who harbour an irrational dislike of Dylan. He certainly inspires that in some people, most of whom still complain about his singing, though one would think after 50 years that particular gripe would have become a tad passé.
It was the same with Leonard Cohen. The people who complained about his singing in the seventies were still at it when he died in 2016. Of course there are also those who hold a disdain for both Laughing Lenny's and Uncle Bob's songs: too pretentious, too obscure, too simplistic, too long, too whatever...
I, of course, disagree, but on the bright side today's Bob Dylan update skirts around both those objections, so it should be a rare case of pleasing all the people all the time or whatever it was Abraham Lincoln said. Or was it Stormy Daniels? Anyway, this should do it since it is Bob Dylan news about neither his singing nor songwriting.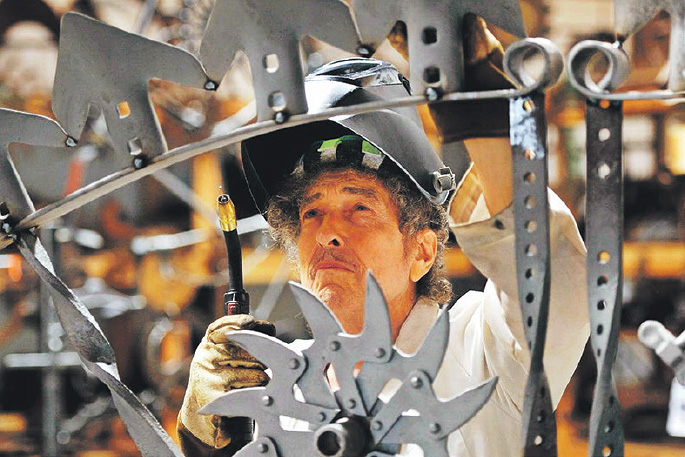 The news, and good it is indeed, is that Bob is back on the radio! Yep, as those paying attention will know one of the many achievements in Mr Dylan's busy life is that as well as writing songs, making albums, touring, painting, sculpting and exhibiting his artworks – his welded metal "gate" sculptures sell for around half a million NZ dollars – he is also an extraordinary radio broadcaster.
Casino gates
(Actually, just backing up a little I should let you know that you can, when this pandemic passes and we can all rush back to a Trump-less United States, visit one of Bob's artworks. You'll need to go to Maryland, to the MGM's National Harbour Casino, and right there at the entrance you'll see the gate. Dylan first exhibited iron sculptures of this sort at a London gallery in 2013, but this 26-by-15-foot iron archway is reckoned to be the biggest on public view.)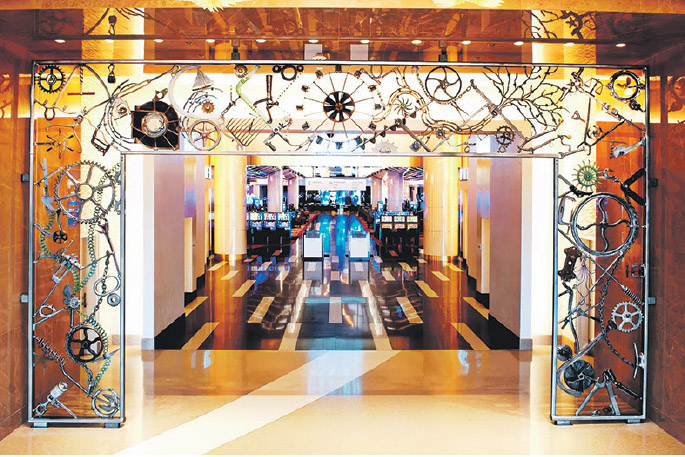 So, back to the radio broadcaster bit. Between May 2006 and April 2009 Bob Dylan had an hour long, weekly radio show on satellite radio broadcaster Sirius. By the end of the run he had broadcast 100 shows, each with a particular theme. It was called, with unshakable logic, Bob Dylan's Theme Time Radio Hour.
And what shows they were! This was radio the way some of us would like to remember radio: an announcer playing songs of his choice from the entirety of musical history, early blues and jazz through to hip-hop and recent releases, each with pertinent interesting facts about the musicians and songs, interspersed with witty comments, old commercials, snippets of film dialogue, all related to the week's specific topic.
Podcasts
This was radio as a podcast, before podcasts really took off, and shows how much podcasts are essentially just good radio that you can, as the name implies, Play On Demand.
After 100 shows that was it. Bob had done radio. Except there was one more. In February 2015, Berlin's Radio Eins announced that it would broadcast a heretofore unknown episode titled "Kiss": there had been a "lost" show in the can all the time.
And now there is one more. It's a new show. Bob, for reasons only known to Bob and his bank manager, has produced one more Theme Time Radio Hour, on the theme on Whiskey. Two things: it is in fact two hours long, and it is available to everyone on Spotify. Just search for Bob Dylan Whiskey.
It is - and this is a completely biased not even vaguely objective opinion - absolutely brilliant. The music is fantastic and Bob is at his laconic best. He digs out all sorts of fascinating musical connections and trivia, my favourite being the song he plays by both Frank Sinatra and the Jeff Beck Group (with Rod Stewart), both recorded in 1968, suggesting that mainstream and counter-culture may have been closer than otherwise imagined.
OK. That's it from me. Have a good long weekend, and dial up Bob Radio on Spotify – you won't regret it.