Winston Watusi
Music Plus
Just occasionally I feel a bit overwhelmed by the sheer volume of music all around us.
And this week is one of those times since every day seems to have brought another email about things to write about, a new digital release, or an actual CD for review. They are piling up...
Not only is the recorded music piling up but of course we have Labour Weekend approaching. Last week I wrote about the plethora of music occurring this Sunday. Well, next weekend, especially with the Rotorua Blues Festival happening just down the road and a public holiday on Monday, looks like being even crazier.
Let me start by running down a few of these new releases for you. This is by way of a preview since all of these albums will be getting full reviews over the next couple of months...
First up there's Sean Bodley. I've written about him frequently this year because since the March lockdown he has been releasing a new single every three weeks with the idea of finally releasing all eight tracks as a full album. That's now happening. The album, Neon Daydreams, will be launched on Nov 16 and will be available on all streaming/digital platforms, but as an added bonus, if you pre-order now through Bandcamp, you'll get an instant download of the single Sunday Drive and a bonus track not otherwise available.
No theme
I had a chat with Sean who told me "Unlike most of my albums, there is no theme running through this one, it is literally a collection of singles, ideas that came to me during lockdown that I decided I wanted to run with."
This will be his seventh studio album with all tracks mixed by Sean and then mastered by Tim Julian at The Colourfield Recording Studio.
Then there's Janne Izett's debut CD Seasons which I mentioned a fortnight back. It will be launched Oct 30 at Waihi Beach Hotel and then Nov 27 at The Jam Factory.
And last week the CD of Anthony Coulter's new album, Memories, was dropped into the Weekend Sun office. That's due for release in a star-studded bash at the Jam Factory on Saturday November 14.
But wait, there's more!
There's a new single coming out from Waihi next week, a collaboration by Liam Ryan and Sarah Spicer, and you can already find the video for the soul-inflected funky work-out, Get Jive!, on-line at www.youtube.com/watch?v=rojs4WNg6iY.
Liam Ryan and Sarah Spicer.
The pair both found their musical activities curtailed by Covid so have begun working together, writing and producing recordings from Waihi using the wide range of fantastic musicians available to them on-line, many of whom Liam has played with during his long career in music.
Musicians
That includes trombone legend Rodger Fox, guitarist Nick Granville and a new acquaintance, Pete Stroud, the English bass player, veteran of John Mayall's and Peter Green's bands, who was stranded in the country during lockdown and has been playing the odd live show with Mike Garner.
And last, but definitely not least, I have a copy of Jan Preston's new album, titled with extraordinary efficiency Piano Boogie Woman. Which in many ways is as succinct a summary of the contents as is possible. It's a great-looking and great-sounding album, and you can take the chance to catch Jan live over Labour Weekend.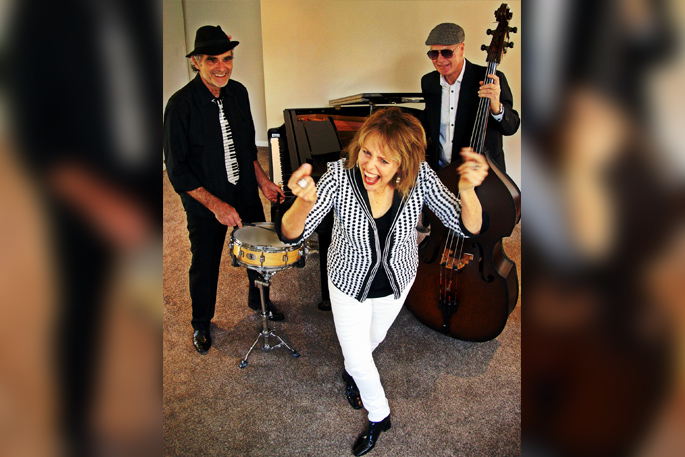 Jan Preston and her band.
Firstly she is playing at the Rotorua Blues Festival. This looks like being a splendid event, having moved for the first time from the depths of winter to these hopefully warmer and sunnier times. The main action happens on Saturday and Sunday (24-25 October) and there are a couple of dozen bands playing both for free and at ticketed concerts.
Heading over from Tauranga are The Mike Garner Trio, who will be playing a cruise on the Lakeland Queen, Hybrid Blues, B-Side Band, Brown Dog and The Muttleys, and Kokomo. I think that's the lot... You can find more information at www.bopblues.co.nz or, even better, the BOP Blues Facebook page.
Jan's also playing at The Omokoroa Boat Club on Monday 26 October at 4pm. Tickets for that show are $30 ($25 for members) from Undertheradar.co.nz or in person from the Boat Club.