Winston Watusi
Music Plus
I used to assume that when days start getting longer, they also get warmer. Sadly that's not true.
And with the arrival of August imminent, a bit of warmth would be very welcome. Even as I type this, I can feel my hands seizing up – roll on summer.
But that's not for a while. More immediately, as mentioned, we have August, which is indeed to be an awesome month this year since it marks the 20th anniversary of the very newspaper you're reading.
If I might blow our own trombone for a minute, I do think it's a milestone worth celebrating.
No doubt the mayoral invitation to a ticker-tape parade down Devonport Rd is on its way.
However, before the reminiscing starts, let's look to the future and see what August has in-store.
Firstly, the International Film Festival is in full swing. You can catch half a dozen films from it at Rialto cinema this weekend but most of the action is happening online. There is a programme of some 80 feature films and short film collections for streaming on your television, computer, handheld device or whatever.
There are a couple of approaches you can take.
The films
It's all at: https://athome.nziff.co.nz
This is the streaming platform for purchasing and watching films.
Sign up and you can access both films available as online rentals, which can be viewed as often as you like for 48 hours, or online premieres, viewed at a set date and time and including special filmmaker extras.
Amongst the deluge of films are French drama 'The Truth', new Aussie romp 'The True History of the Kelly Gang' and dozens of others. The cut-off date for different films varies but many are available up until August 8. Check out the programme online.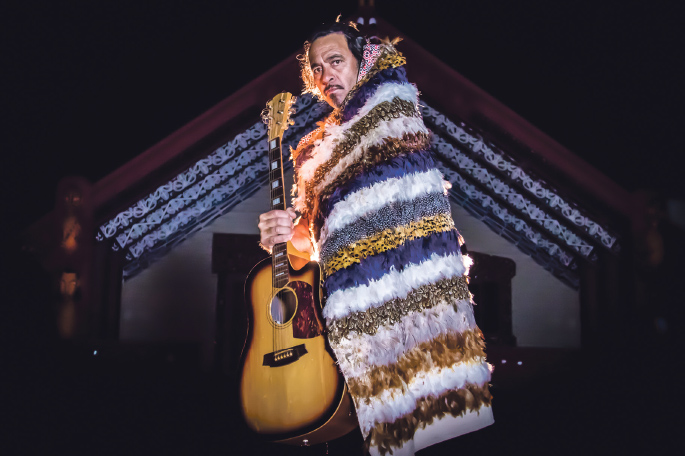 Grant Haua.
Okay. Moving right along, with two bits of news from the world of singer and blues guitarist Grant Haua. First up, the hard-rocking electric Grant Haua Trio has changed its name and will now be known as Hurricane Eli. You can catch them at The Hop House on Saturday, August 8.
But, bigger than that, Grant has been signed internationally by French record label Dixiefrog Records. They have in the past been responsible for releases by Popa Chubby, Tony Joe White, Bill Wyman's Rhythm Kings, Eric Bibb, Duke Robillard, Lee Rocker, and Zachary Richard, which is pretty prestigious company to be keeping. This has involved a slight image change for Grant as you can from the photo here and on his new website: https://granthaua.com
The music
So what is there to look forward to in August on the music front? Quite a lot as it happens. I'll be coming back to a number of these but let's have a skim through a few points of interest.
Actually, there seems to be a peak in the middle of the month, so we'll focus on just one weekend a couple of weeks off in case you need to buy tickets or put something on your calendar.
On Friday, August 14, Mike Garner and Robbie Laven are playing for the Katikati Folk Club at The Arts Junction, no doubt highlighting songs from Mike's recent album 'Don't Mind The Rain'. Details are on the Folk Club website: https://katikatifolkclub.co.nz/page10.html
On Saturday, August 15, over at the Mount at Totara Street it's Loserpalooza 2020. Twenty five bands and two stages with all proceeds going to Lifeline. This was huge last year – more next week. The same night, in a more mainstream vein, Devilskin is playing at Baypark: there are still $60 tickets available.
The following day, Sunday, August 16, finds Irish band The Whittakers at Jack Dusty's Ale House from 3pm, while Kokomo is playing live in the Bay for the first time since February, doing a Sunday afternoon show at The Arts Junction in Katikati. The following week, on Sunday, August 23, they take the new show to the Jam Factory, which is also expecting a visit from Auckland folk trio Albi and The Wolves on Friday, August 21.
Looks like plenty for everyone! And I got through the week without mentioning Billy TK Jr's new political party. Some things are too strange, even for this column.