Winston Watusi
Music Plus
As the music scene returns to normal so does this column; this week we've got a blues gig and a new album.
The album, My Red Guitar, is by Tauranga local Ian Gilmour, recorded at Whakamarama's Boatshed Studio.
Ian is not a professional musician. Now in his seventies, he played publicly for a while about 20 years ago, but his main musical talent is songwriting.
Songwriters are a weird group to categorise; they can come from any background. You get songwriting lawyers, songwriters working on road gangs, songwriters who are intellectuals, songwriters who left school at thirteen.
Writing songs is an oddly elusive ability. It is clearly honed by experience but since so much is personal taste – which word to use, where the tune goes – there does also seem to be an indefinable inbuilt ability involved. Some people just have a 'feel' for it.
The more I learn the more I value this ability and appreciate the effort it takes to produce an album, to create even ten songs as there are here.
That's ten songs on varying subjects, in varying styles, with varying structures – an album is the musical equivalent of writing a novel: there's a lot to it.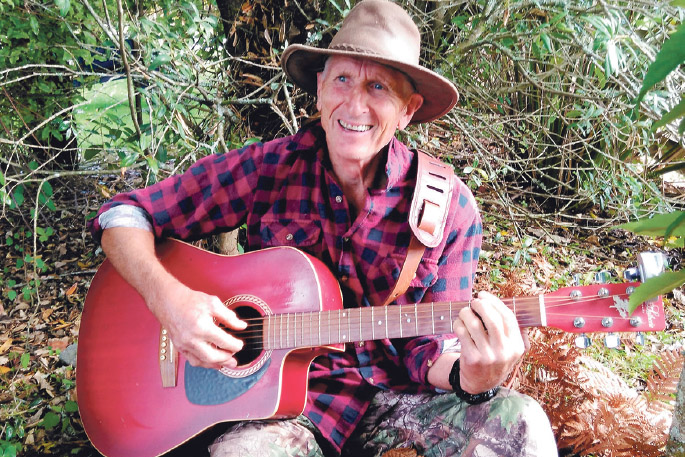 Luckily, Ian has a real feel for it. You can tell from the first line of the first song, the title track: "When I hit twelve I got a red guitar." It's a simple thing, but it's simply right. As Mark Twain said: "The difference between the almost right word and the right word is the difference between the lightning bug and the lightning."
Lightning
And that line is right. Roll it round in your mouth. "Hit", "Got" and "Guitar" are the keys, with the whole song set up between that and the second line, a father's admonishment that there's no money in music.
So Ian can write a good lyric. And a pleasingly catchy melody. Second up is Slowly, a little advice to younger generations which echoes the album's dedication, to Ian's grandchildren. Then there's Fire & Home, an impressive slice of philosophical musing on the contradictory pulls of home comforts and the solitary joys of campfires and trails.
That last one leans towards Celtic rhythms but the album's overall style is easy-listening country. Boatshed boss, producer/arranger/multi-instrumentalist Nigel Masters has fashioned a bed of acoustic guitars and piano and has brought his characteristic theatrical flourishes to the songs. Thus My Red Guitar ends with a piano outro of Que Sera Sera, echoing the lyric, while Journey Through The Past, a song reflecting Ian's interest in American frontier history, gets hints of a military drum and similar musical quotes.
There are other smart touches, from pizzicato strings to some tasty resonator guitar courtesy of Katikati's Richard Coad, and in a more typical Boatshed signature Nigel delivers pitch-perfect Mark Knopfler-style guitar on Three Short Steps, a bitter-sweet ballad of young love.
Ian has put extracts from the CD on his Ian Gilmour (Gilly) Facebook page – from where it is available - and is getting it onto Bandcamp. He's also working on a second album; I look forward to it.
Blues
Now, live music. People hidden during lockdown are re-emerging. One is bluesman Mike Garner who returns with a full band at The Barrel Room on American Independence Day, Saturday, July 4. The line-up includes Trevor Braunias (guitar), Warren Houston (drums), and a special guest on bass, UK musician Pete Stroud, who plays over there with Peter Green, Buddy Whittington and others.
Pete and his wife came here for a holiday earlier this year and were trapped by the lockdown. They still can't get back to the UK.
Mike has known Pete for a while. In fact Pete, who grew up in Wellington and has family in the Mount and in Waihi, actually lives round the corner from where Mike has family and his mother was born, in Headley, Hampshire. They have visited. Saturday will be special though: surprisingly it's the first time the two of them have played together.
Music kicks off at 7.30pm, no charge.