Weather Eye
with John Maunder
Global temperatures are compiled for various areas including global (land-ocean), global (meteorological stations), three latitude bands,
and hemispheric, by the Goddard Institute for Space Studies of NASA.
The graph shows the monthly mean global surface temperature anomaly from the base period 1951-1980, for the period 1996- May 2020.
For details see data.giss.nasa. (See graphs at the top right hand corner of the front web page and go to months)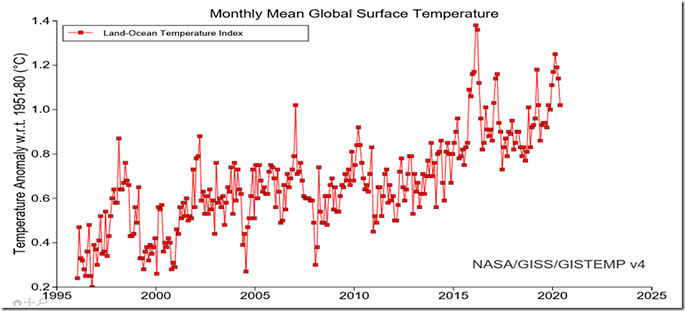 The GISS Surface Temperature Analysis (GISTEMP) is an estimate of global surface temperature change. Graphs and tables are updated around the
middle of every month using current data files from NOAA GHCN v3 (meteorological stations), ERSST v4 (ocean areas), and SCAR (Antarctic stations),
combined as described in our December 2010 publication (Hansen et al. 2010). These updated files incorporate reports for the previous month and
also late reports and corrections for earlier month.
The basic GISS temperature analysis scheme was defined in the late 1970's when a method of estimating global temperature
change was needed for comparison with one-dimensional global climate models. The scheme was based on the finding that the correlation
of temperature change was reasonably strong for stations separated by up to 1200 km, especially at middle and high latitudes. This fact proved
sufficient to obtain useful estimates for global mean temperature changes.
The chart above shows that from 1997 to May 2020 there has been a small warming in the global monthly temperatures, and a relatively
warm period associated with the recent El Nino event.
For further information on a wide range of weather/climate matters. Google: climatediceandtheweatherdice