Winston Watusi
Music Plus
It's an odd feeling, but things seem to be returning to normal.
And once again, as I follow foreign news from America, Britain, India, even little Singapore which started so well, all I can say is that I'm so glad I live in New Zealand.
Slowly, events are starting to return, despite the unavoidable lag. But by mid-July we should have a full calendar of music and other entertainment.
Jack Dusty's Blues Nights restarted last week with a packed Wednesday; Paul Ubana Jones visits the Jam Factory in mid-July; Tauranga Film Society is back in business and resumes screenings on June 24 with the acclaimed 2012 Brazilian drama Neighbouring Sounds at The Rialto; and the Katikati Folk Club kick off again at the end of this month with a concert by The Company on June 26.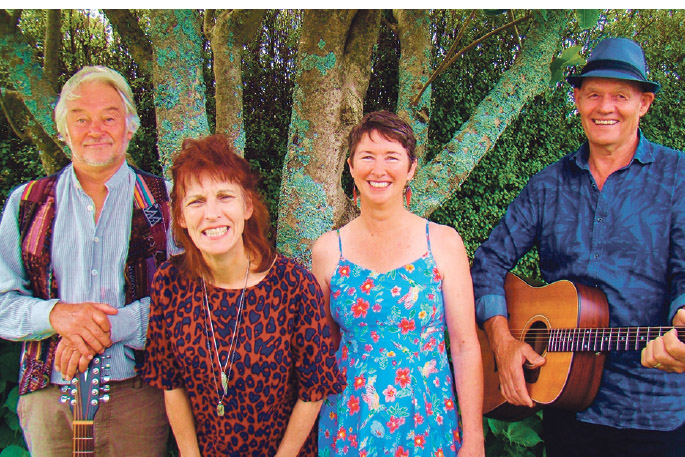 The Company.
If you're interested in the latter, The Company are a combination: Two's Company, the husband and wife team of Peter and Jacquie Faulkner - who flit between genres from opera to blues, jazz and folk - and Smith and Co, comprising Anne Bailey and Ashley Smith. Expect guitar, piano, harmonica and percussion, with a focus on vocal harmonies. Doors 7pm, music 7.30pm, members $15, non-members $20.
New album
So it looks like we're back in business again. And I have another newly-released Tauranga album to tell you about, though the actual review comes next week.
There are, of course, many different types of albums recorded in Tauranga, but essentially they split into two categories. There are albums by 'professionals' such as the output of Brilleaux, Grant Haua, Mike Garner, Kokomo and others; and there are albums by 'amateurs', people who have written songs over the years perhaps and now want to record them, or people who were once gigging musicians but gave it away, even people who are recording music as therapy.
Looking at the Boatshed Studio, since that's where this latest album comes from, there are examples of all three of those projects.
Artist Dave Roy initially started making albums there as therapy to help with depression issues (which he has also highlighted in art exhibitions). He ended up recording almost a dozen albums over time, enlisting the help of a veritable Who's Who of top Tauranga musicians.
Meanwhile, Archie Clark, who released his 50 Days in Asia album a couple of years back, was a jobbing musician in the South Island for several years but had left music on the back-burner for some decades to raise a family.
This latest recording is from Ian Gilmour, a songwriter who has never played professionally but dedicates the album to his grandchildren in hopes of encouraging their discovery of the joys of music.
Folk Art
I look forward to and enjoy each type of recording pretty much equally, if possibly with not the anticipation I have for this week's new Bob Dylan release.
The value of music is found in more than technical qualities and these 'amateur' albums - which I tend to view as 'folk art' - can, despite imperfections, often go places and contain more surprises and honesty than those by 'professionals'.
They are also interesting because they give an insight into the studio where they were recorded and the guys running them. Over the years I have become quite familiar with the styles of Nigel Masters at The Boatshed Studio, Tim Julian at The Colour Field Studio and Shane Davis at Soundtree Productions.
I'm not as acquainted with the folk at Mount Maunganui's Studio 11b who have done sterling work with artists as diverse as Threat.Meet.Protocol, Tiki Taane, and Anna Hawkins.
Nigel and Tim I know best and both are multi-instrumentalists of considerable skill.
An album such as Mike Garner's latest Don't Mind The Blues – recorded at both their studios – sounds like a Mike Garner album, because Mike has done this many times, has his own band, and knows what he wants.
But 'amateur' albums such as Ian Gilmour's typically leave the arrangements, playing and most other things to the skill and taste of the studio dude, allowing a real insight into the studio itself.
We'll look a little more closely next week.
watusi@thesun.co.nz