Winston Watusi
Music Plus
"Jazz is not dead" - that's what Frank Zappa famously said; he added "It just smells funny". It's a good line.
I almost hesitate to repeat it since it has been so frequently quoted. But this week's column is jazz-centric so thanks Frank, I'll recycle it one more time.
The main jazz event in Tauranga is of course the Easter festival. The Fifty Eighth National Jazz Festival. The longest-running single venue jazz festival in the Southern Hemisphere.
Or the world. Certainly the longest-running something or other.
That's not to be sneezed at (especially now – go straight to quarantine for sneezing in public). Whatever the true legend, it's pretty impressive for a little town so far from the world's centre that the country it's in doesn't even feature on CNN's COVID-19 virus map.
But, come rain, come shine, come pandemics, the New Zealand National Jazz Festival has taken place at Easter since the early 1960s. There are even jazz musicians still active here, who will probably perform at this year's iteration, that played at and were instrumental (Boom-Boom!) in the creation of that first inchoate festival.
Programme
This year's programme is on line at: www.jazz.org.nz and I'll get back to it – only one month to go! - but, in the meantime, let's spend this week on a jazz-related ramble.
Tauranga has long been associated with jazz, not purely because of the annual festival but because more than a few players around the country originate here. Understandably, if your interests centre round playing jazz you might not stay in Tauranga. The usual route is to Auckland or, more likely, Wellington to study jazz, then join or form one of the very many jazz-inflected bands in either of those cities.
There is certainly a regular migration of the Bay's young jazz achievers, with many of them going on to become high achievers. I was struck by this recently when a video hit YouTube of The Rodger Fox Band's latest foray to America, playing at a festival in New Orleans and then dates in New York and a recording session at New York's Bunker Studio.
Unlike many New Zealand bands, whose overseas profile people tend to overestimate, The Rodger Fox Band is the opposite: I don't think most people here realise how esteemed he and they are in worldwide jazz circles.
What struck me about the band's latest line-up is that it includes no fewer than four Tauranga players.
Tauranga musos
Longest-standing member is trombonist Damian Forlong, who has been with Rodger for some years.
He also leads Wellington swing outfit Shaken Not Stirred and was once President of the Tauranga Jazz Society. Then there's fellow Shaken Not Stirred alumnus Deanne Hunter on guitar, as well as fabulous bass player Rory Macartney. Rory is also a top class luthier and, most impressively, received an endorsement from Aguilar Amplification while he was in the States.
Last but not least there's sax-playing multi-instrumentalist Oscar Laven who also performs with the fabulous Shake 'em On Downers and a bunch of other outfits in the capital.
Rodger is actually coming to town towards the end of the month: you can catch him at the Mount Social Club Jazz Jam on Wednesday, March 25 – no charge! – though he's mainly here in an educational capacity, running a Youth Jazz Workshop at Tauranga Boys' College on Thursday 26 for secondary school big bands and combos in preparation for the National Youth Jazz Competition being held April 8-9.
Prior to that, Sydney's 10-piece Hot Potato Band - including three drummers and a sousaphone - are coming to Totara Street next Thursday (March 19). They're not strictly a jazz band but they do have a lot of horns and are essentially a brass band, one modelled on the classic instrumentation of New Orleans brass bands. And if it's from New Orleans it's gotta be jazz of some sort.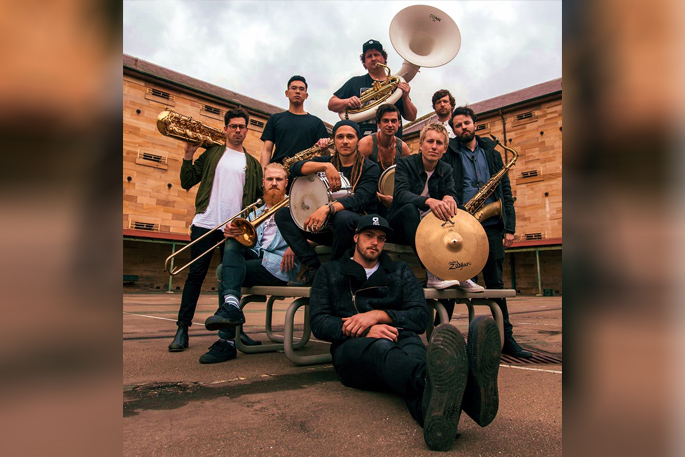 It's hard to pin them down, with all sorts of pop, funk, ska and reggae touches thrown in, but live on-line clips are absolutely sensational.
The musicians all come from street performer backgrounds so expect dancing, interaction and, above all, brilliant music. Tickets are $35 from Eventfinda.