Winston Watusi
Music Plus
There's been a lot of folk around town recently, and I mean that both ways.
A bunch of tourists are still on the beaches and there have been frequent sightings of banjos, harps, fiddles and other accoutrements of the gigging folkie.
Here in the Bay we've had more than our fair share of folk. That's pretty much thanks to the Auckland Folk Festival: there are still acts touring the country after that grand event and Tauranga, having a ready-made, smaller, affordable venue, is an easy stop.
Once again, of course, I mean the Jam Factory at the Historic Village, a perfect concert space for artists looking at an audience of around 50.
But it's not just folk music. Beasts of all stripes are playing in the Bay before the end of this short – but not as short as usual – month. Let me highlight three very different trios...
Two are coming to the Jam Factory. First up, next Tuesday (February 18), a trio of New Zealand's top jazz players arrive from Wellington. They are Hayden Chisolm and Unwind.
Hayden hasn't lived in New Zealand for a while now. Despite his roots in Taranaki, he moved to Germany in 1993 to study at the Cologne College of Music and has made his home in Europe ever since, performing there, Asia, the Americas and Africa, while finding time to return to New Zealand for an annual tour.
Unwind
In the band with Hayden are two of New Zealand's most respected jazz musicians, bassist Paul Dyne (Sustenance, Mike Nock, Malcolm McNeill) and pianist/composer Norman Meehan.
Unwind's self-titled debut album was a finalist for Jazz Album of the Year in 2018. That was followed in 2019 by Orange. Earlier this month the band released its latest offering, Saffron, which includes a half-hour "live in the studio" DVD. All are released by Rattle Records.
You can get a better idea of their style, certainly jazz, but flirting with Indian raga, chamber music, and folk traditions on YouTube. Doors: 6.30pm; Tickets $20, Events Pronto and the door.
And that "Indian raga" reference provides a segue to the next trio: the following Wednesday (February 26) the Jam Factory hosts Pangaea. Pangaea is a world fusion band from India and NZ, formed in 2017, a collaboration between tabla player and percussionist Saptak Sharma, New Zealand composer and classical guitarist Mike Hogan, and Mayank Rainer, sitar and flute player.
It's a fascinating blend and together they skip across musical boundaries, fusing Hindustani classical music with western classical and folk music. They've performed across India, Nepal and Australia and come highly recommended. Doors: 6.30pm; tickets $15, Events Pronto and door.
Grant Haua
On to the third trio, The Grant Haua Trio. This is Grant's latest venture since leaving Swamp Thing last year. They have been playing at the Hop House in Wharf Street, giving people a taste of their new sound on Saturday nights. Now they have a big bash planned for the end of the month – Saturday February 29 to be precise – along with local favourites Kokomo, at the Black Sheep Tavern in Whakamarama.
Grant is one of the country's finest blues singers and songwriters and a breathtaking guitarist. The trio also comprises bass player/singer Brian Franks (Brilleaux) and drummer Jeff Nilson (Electric Universe, Black Rose). Grant has recently finished a new solo album and the band are currently recording their debut.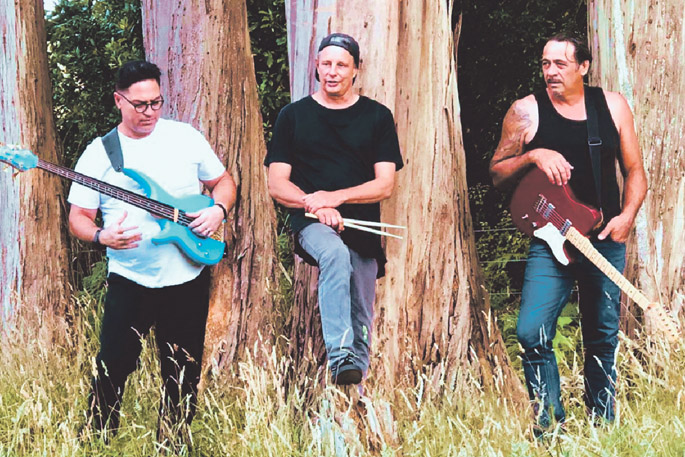 Just while we're on him, I should mention some of Grant's amazing achievements: he's played at WOMAD and WOMAdelaide main-stage; held number one and number two spots on NZ album charts simultaneously; headlined festivals both here and Australia - Geraldton Blues Festival, Blues at the Briars, Sanctuary Sounds NZ and more; and headlined Gisborne Blues Festival 2017 as a solo artist.
In short, he's something phenomenal and the new band sound brilliant. The show on the last day of February will include full sets from Kokomo and the Grant Haua Trio, and a solo set from Grant. The two bands jamming together also seems likely.
Doors: 3pm; Tickets $20, Eventfinda, the Black Sheep.
The Weekend Sun has two double passes to see Grant Haua Trio/Kokomo at the Black Sheep Restaurant on February 29 for two lucky readers who can tell us where The Black Sheep is located.
Enter online at https://www.sunlive.co.nz/competitions.html. Entries must be received by Tuesday, February 18.