Winston Watusi
Music Plus
Love is in the air: only a short time now and we can embrace the romantic charm of St Valentine's Day.
Regular readers might be surprised at a jaded sceptic such as myself waxing enthusiastically about this. Allow me to elucidate: not only are there two killer gigs happening that night, but I reckon we should also acknowledge that St Valentine's Day – as far as days that celebrate things – is a pretty authentic one.
There's always the cry that certain days have become commercialised.
Fair call. Everyone by now knows that Santa Claus dresses as he does – ho, ho, ho, in jolly red and white – because of a World War One advertising campaign by Coca Cola, reinventing the veritable Christmas icon as being dressed in company colours.
And Father's Day is also a bit iffy.
It arrived pretty much on the back of Mother's Day. Perhaps it should come as no surprise that someone looked at Mother's Day and said: "we want one of those"...
Mother's Day
Mother's Day actually started off in the United States as an anti-war day: in the 19th century, women's peace groups tried to establish regular activities against war, including many meetings of groups whose sons had fought or died during the Civil War.
In 1868, Ann Jarvis organised a committee to establish a Mother's Friendship Day, the purpose of which was "to reunite families that had been divided during the Civil War". Her daughter Anna continued those efforts: the modern holiday of Mother's Day was first celebrated in 1908, and in 1914 Woodrow Wilson signed a proclamation making it official.
Obviously fathers needed equal rights! But after initial demands in 1910 no one was much interested till the 1930s when the idea was picked up by various dedicated father-lovers, particularly the manufacturers of ties and tobacco pipes. In 1938 the Father's Day Council was founded, by a group who clearly had a deep desire to honour fathers: the New York Associated Menswear Retailers. Long story short, Father's Day eventually made it over the line in the US, finally allowing equality for all those undervalued men. President Richard Nixon signed it into law in 1972.
But forget these modern usurpers.
Valentine's Day's origins are really, really old and even in its present form – a celebration of romantic love – it's pretty damn old. It started in 496AD to commemorate the various martyred St Valentines, since it would appear there were no fewer than three of them. Maybe four. Clearly it was a popular and saintly name.
Chaucer
The association with love and romance is something for which we can thank the great English poet Geoffrey Chaucer, who in 1382, to honour the first anniversary of the engagement of King Richard II of England and Anne of Bohemia, wrote: "For this was on seynt Volantynys day / Whan euery bryd comyth there to chese his make".
Yep, English was a bit different back then. What that means is: "For this was on St Valentine's Day, when every bird cometh there to choose his mate." And from then on it took off.
So thank you Geoffrey C, let's just be grateful that the celebration hasn't become, y'know, commercialised...
Anyway, leaving aside history lessons, get your dancing shoes ready for two great St Valentine's Day gigs.
At Our Place, Tauranga's communal container-created gathering space, from 6pm you can enjoy the fabulous grooves of Banana Mundo, a collective of musicians from Argentina, Uruguay, France, Switzerland, England, and New Zealand, who play an energetic and very danceable mix of Latin and Afro Beat music. They are a blast (and free!)
And at The Mount's Totara Street, Amsterdam-based Dutch-NZ trio My Baby are celebrating the release of a new live album with their unique roots-driven dance music.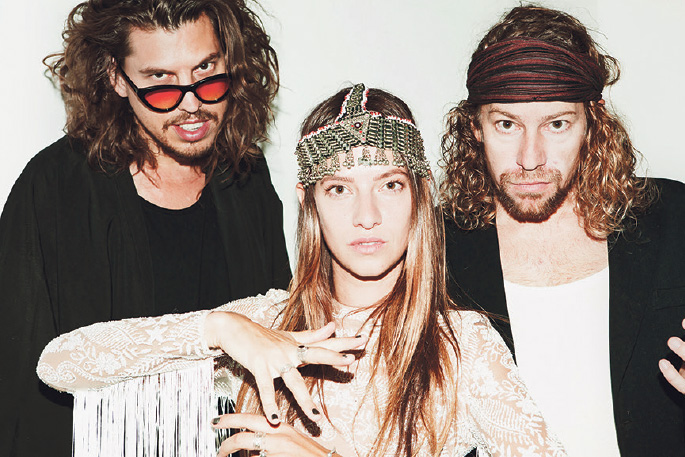 Comprising two guitarists and a drummer, My Baby's sound mixes the influence of gospel and blues and folk melodies with the rawness of 70s funk, African desert blues, Moroccan gnawa, Indian raga and a touch of EDM. They've played festivals, including Glastonbury, Isle of Wight, Sziget, Fusion and Exit. Do I need to say they're fantastic? Doors 8pm, tickets $30.