Winston Watusi
Music Plus
Plus ça change, plus c'est la même chose.
Yep, we're starting this week with an eminently true bit of French. For those less familiar with Gallic language it translates as: "the more things change, the more they stay the same".
I was struck by that when I popped down to the Historic Village last week. It was like visiting an old friend. There, amongst the art galleries and specialist stores was a familiar-looking logo and a familiar-looking shop front: Record Roundabout is back.
It's a weird world. The music industry has changed beyond all recognition in the past decade, with downloading services, cloud-based music libraries, the decline of CDs, and the rise of streaming platforms.
It sometimes seems as if Spotify, YouTube, Pandora and a handful of others are conquering the business.
But, counter-intuitively, the other thing that is on the rise, in a world seemingly governed by speed, convenience and lack of physical encumberment, is the sale of vinyl.
So the man who started Record Roundabout in Tauranga 40 years ago is back with its latest incarnation, a spiffy-looking shop filled with bulging bins of records, memorabilia and all sorts of music-related goodies, its walls lined with classic signed posters from Jimmy Barnes, Hunters & Collectors and others, and very little that would have looked out of place last century.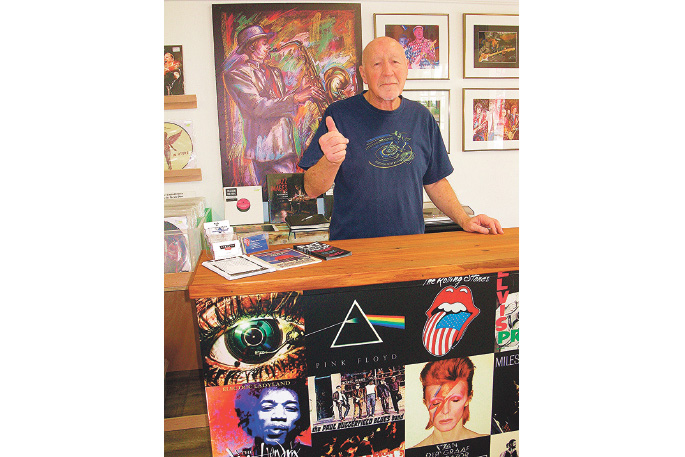 The start
Tony Pill opened the first Record Roundabout in 1989 in 16th Avenue. There's a café there now, next to a hairdresser. Tony didn't stay long. Retail works better in town than the avenues and before too long he'd relocated.
The second iteration was on the corner of Hamilton Street and Willow Street in the basement of a car park, but that was also always destined to be temporary. In the early '90s Tony moved halfway up Devonport Road to a new shopping mall: Devonport Mews. That small enclave of businesses, which included a couple of groovy cafés and a bunch of shops, ran via an escalator through to Grey Street. It struggled for several years but never really took off.
That led to Tony's final move, to the place Record Roundabout was best known, Piccadilly Arcade.
He was there for a decade.
But that was another decade ago now. Records went out of fashion.
Everyone wanted the convenience of CDs. And everyone knows what happened next. Slowly downloading chipped away at CDs, then streaming.
Music shops became commercially dubious. But now, for reasons that remain somewhat baffling, vinyl is making a return. Which has delighted Tony.
He's done all sorts in the past ten years, including getting heavily involved in local football, both as a referee and on the board of Tauranga City FC, enjoying his time with a premier New Zealand club and ending as president of the governing committee.
Record fairs
For the last while he has been back on the music scene too, travelling the country to record fairs and importing all sorts of goodies from round the world.
"Most of it comes from the States and a few countries in Europe," says Tony. "The UK is good, and Germany, but the most interesting market is Holland."
In fact Holland has become a huge distribution point for vinyl. The world's biggest record fair happens in Utrecht, which features more than 500 dealers and takes place over two days in a location the size of two full rugby fields.
Now Tony is happy to have the iconic shop open again. His own tastes run to blues, jazz and classic rock but he has every genre there and rare stuff wherever you look, including an exclusive Record Store Day release from The Doors, rare Bowie, very rare 45s, books, figurines, all sorts of stuff. He even has CDs.
And, ever supportive of local music – he was on the Jazz Society committee for six years – Tony is happy to sell music from local bands for no commission.
Record Roundabout opens from 10.30am till 3pm (very civilised hours) from Tuesday to Saturday, and he'll be open all through this Saturday's Fringe Festival at the Village.
It's well worth a look if you want something special for that music lover in your life.