Winston Watusi
Music Plus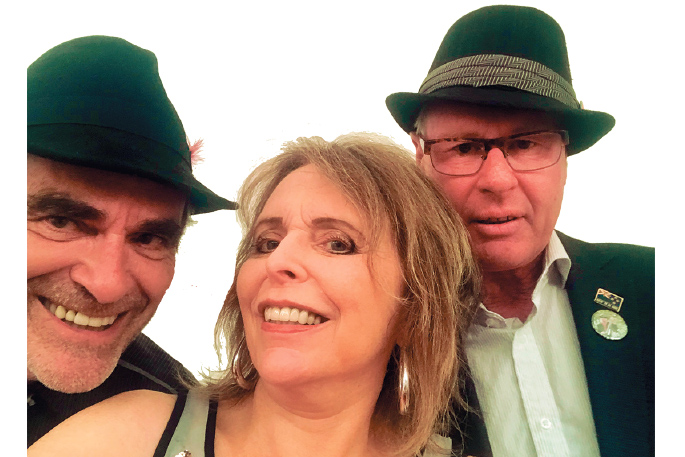 Time to celebrate, boogie-lovers - Jan Preston is coming to town!
Or should I say, Jan Preston is coming back to town, since the woman they call Australia's Queen of Boogie Piano has a long and strong association with Tauranga. Not only was her latest album recorded here, but the man who produced it, The Boatshed's Studio's Nigel Masters, is Jan's bass player for this new tour.
Playing eighteen dates throughout the North Island, Jan calls her latest show '88 Pianos I Have Known'. She debuted it in New Zealand with a March tour, which took her trio through the South Island but didn't reach the Bay of Plenty. This time Jan's filling in the gaps.
And, as the name would suggest, the show explores Jan's fascination with and love for that 88 note instrument, the piano. It includes a whole bunch of projected images of pianos (yes, there are indeed 88 of them) and personal stories, many of which involve pianos.
Most importantly Jan will be playing the piano and she is indeed a killer boogie-woogie player, one who tours the world and whose skill on the piano is only matched by her dedication.
Dedication
That came to the fore a couple of years back when Jan broke both her wrists. For most of us it would mean a few months of serious inconvenience. The more you think about it, the more things become really, really difficult with a couple of broken wrists. But when your passion (and your living) involves using those wrists to play a piano, and not in a gentle way, it becomes a much bigger issue.
Fortunately, and amazingly, Jan made a complete recovery and was back performing within six months. That's dedication for you.
She was born down south in Greymouth and discovered the piano when she was just a nipper. That led to a five-year classical piano degree at Auckland University. But the life of a concert pianist didn't appeal and she cut off her hair and moved to Wellington, working in both the Red Mole theatre group and rock bands.
Then, despite having a No.1 hit with Doctor I Like Your Medicine alongside Harry Lyon in the band Coup D'Etat, she decamped to Sydney, playing in piano bars as well as writing music for films.
Sydney
These days she's still in Sydney and is constantly touring, playing festivals, concerts and shows around the world, including a recent trip to China, while also writing music for film and TV, such as her sister Dame Gaylene Preston's recent documentary My Year with Helen.
Her latest CD, Play It Again Jan, was recorded last year in Tauranga where Jan also made her Cool Boogie Woogie album a few years back. As well as Nigel Masters it also features local drummer Ian "Beano" Gilpin (Brilleaux, Kokomo).
Nigel himself has become something of a star recently, fronting Kokomo's latest single, a song he wrote called Don't Take My Car. It's well worth a Google if you want to see the very funny accompanying video. It's also on Spotify of course, as is Jan's latest album.
Jan Preston's '88 Pianos I Have Known' tour hits the 16th Ave Theatre on Saturday, August 17. It's $25 from www.iticket.co.nz. Also check out this week's competition to win a double pass and a signed CD.
Enter online at www.sunlive.co.nz under the competition section. Entries must be received by Tuesday, August 6.
Loserpalooza
That same day (17 August) there is a mammoth concert happening at The Mount. It's Loserpalooza 2019, a festival running from midday to midnight, featuring over 25 bands spread across two stages at Totara Street and another over the road at the Voodoo Lounge. All proceeds will be going to Lifeline in aid of suicide awareness and prevention.
This is going to be fantastic! A horde of exciting alternative bands – I've only heard a few of them, and none has been less than interesting – a full 12 hours of music, and all for a very good cause and to help with something that sadly seems to disproportionately affect muso types.
I'll be writing about this in much greater detail next week. Till then...