The rumours of my untimely demise seem to be based on alternative facts.

With apologies to Mark Twain, who quipped: "The reports of my death are greatly exaggerated," after widespread rumours that he'd died.

Legend has it that a major American newspaper actually printed his obituary.

As I sit here at RR Headquarters, enjoying the 18th year of writing an (almost) weekly Rogers Rabbit column for page two, I have been quietly amused by reports of my passing, or pending departure from this mortal state.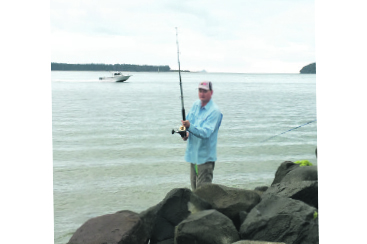 Rare footage shows a live Rogers captured in his natural habitat.


Checking my pulse occasionally just to be sure, it is clear that Rogers is not only surviving but currently flourishing. Sorry to disappoint those tattlers who seem to have been revelling in the sordid details, but the Rabbit is not only well, but dangerous.

Sure, there was that wee brush with cancer back in October, but that was SO last year.

Thanks to the wonderful support of the lovely folk at Tauranga Hospital, amazing specialists, surgeons, the cancer support networks and the lovely people at the Cancer Society, Rogers has rocked out the other side with a whole new zest for life, a semi-colon; plus a lot less tolerance of idiots (if that was possible).

The most bizarre report came via a place called the Hawkes Bay (I didn't think the paper went further than Matata). Folk down the Bay are, apparently, concerned for my health. A couple holidaying in that region apparently told everyone and anyone who'd listen, that Rogers was on the way out.

Meanwhile, back in downtown Tauranga at the local laundromat, a chap was overheard lamenting the great loss of a fine commentator and satirist, bemoaning that Rogers had disappeared without trace.

Even our Sun newsroom reporters have been approached in the street and at meetings, well-meaning folk conveying their condolences. They would have rushed into my office with this bizarre news, only I wasn't there. I was fishing.

Faked death

It's fascinating that, without intent, I have successfully faked my own death.

This is the result of a number of factors:

1. The excellent weather and great fish and dive conditions which has lured Rogers away from his page two duties for a number of weeks.

2. The need for my lovely wife to have a break from the rigours of running a media company while also managing her husband's medical misadventures.

3. The gossip mongering going on at another news organisation in town, again proving that their shaky grasp on accuracy and lack of credibility runs deep. Company motto: Never let the facts stand in the way of a good story.

4. The gullibility of some people to believe, and repeat without question, nonsense and hearsay without thinking for a moment whether it might be true!

Just because a bloke takes a break to go mess around in boats, after 18 years of dutifully bashing out a weekly column, doesn't mean he's croaked. Although sometimes it smells that way. I must wash the fishing shirt more often.

Plenty of talent

The fact that our newsroom is full of talented people who are champing at the bit to write an entertaining viewpoint has also made it easy for me to step aside occasionally and let someone else terrorise the readership with some page two rantings.

And a fine job they have done in my absence. I am grateful to the gossip mongers, however, because it has provided much hilarity back at the fishing camp.

It reminds me of the time an editor at a certain Pacific Island newspaper read about his accidental death in a rival newspaper.

It was supposed to be a joke, but no-one found it funny, least of all the alleged corpse.

I don't have much in common with Stan Walker, but probably share the bewilderment he must be experiencing, as rumours abound of his fate - much of it inaccurate and repeated without question.

There are so many more worthwhile targets of such energy.

Good buggers

It has strengthened my resolve to help promote the work of good buggers such as our local MP Todd Muller, campaigning for improved bowel screening programmes for over 50s.

Todd is concerned the government's delay of a nationwide bowel cancer screening programme rollout locally could cost lives.

He told SunLive: "It's concerning to hear BOPDHB has been instructed by the Ministry to delay the local rollout of the nationwide bowel screening programme until the end of June 2021 – a year later than originally planned."

The programme is free for those aged 60-74 years, and aims to save lives by detecting bowel cancer at an early stage when it can often be successfully treated.

More than 3000 NZers are diagnosed with bowel cancer each year and 1200 die from it (or 1201, if you believe the rumour mongers).

Do something useful

So here's an idea for those of you with so much energy and enthusiasm for spreading bad news - get it right, before engaging your mouth.

Better still, put your efforts into some worthwhile campaign, such as encouraging your family and mates, especially those with a family history of bowel cancer, to get checked out.

Thanks to those friends, family and loyal Sun readers who have been supportive and helpful. It hasn't been an easy journey and there still is a way to go - not helped by some of the wild stories that have come out of the woodwork.

But this columnist is back, fizzing at the gills to return to duty as a skipper on Alpha Crew with my good mates at Tauranga Volunteer Coastguard and continuing to give back to the community.

It does prove the lie, that rather than perishing, Rogers is back out there helping save others from their own potential demise!

Be careful out there. And don't believe everything you hear.