Spotlight on...
with Janne GuitarGirl

Music and art are strong influences in the Foote family. Paul, who grew up in Westport, remembers his mother singing on the local radio station on a Sunday night.
He had classical piano lessons for ten years up to ATCL level with the Trinity College of Music.
He picked up the guitar, inspired by The Animals classic 'House of The Rising Sun', and learnt to play blues harmonica.
Living in Australia in his late twenties, Paul sang and played guitar in four-piece band The Infidels, who performed on the Gold Coast pub circuit for five years. Back in New Zealand, he fronted three-piece rock band Ethic in Christchurch for ten years, playing rhythm/lead guitar and singing lead vocals.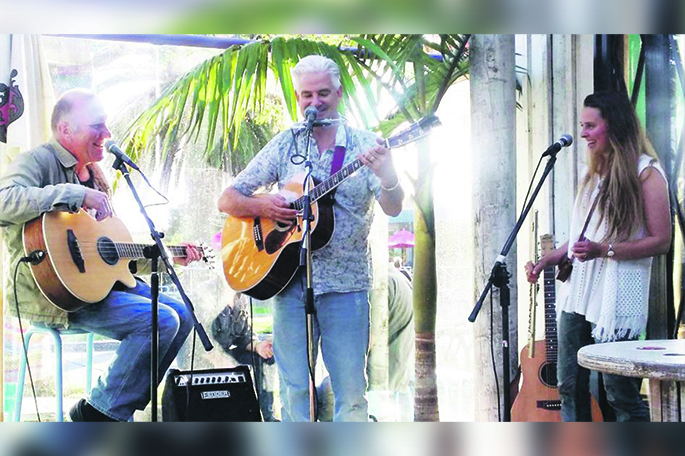 Stephen, Paul and Alice
Paul, now an accomplished musician and performer, has written a varied collection of impressive original songs. He recently joined forces with bass player Stephen Calvert, to perform as duo Out of The Woods. Paul, once again following in his mother's footsteps, is also an incredible artist on canvas, creating many impressive landscapes and seascapes. He has had exhibitions in Westport, Christchurch, and three exhibitions in the Dutch city of Utrecht after living there for a year and painting Dutch scenery.
Paul's magnificent paintings 'Waves' will be exhibited at the Creating Waves Gallery (on the Cruise Deck) in Mount Maunganui from November 17 until December 1.
His talented daughter Alice Sea will be performing on Friday, November 17 from 5.30-6pm, followed by Janne Guitargirl and Stephen Calvert.