Culinary Conversations
with Peter Blakeway
Food writer, caterer and private chef
The concept of wild food is one I always find interesting for, as the old joke goes, "waiter is this meat really wild?" answer "Yes sir, it was absolutely furious when we shot it". You can stop cringing now - that is the only attempt at a joke this week.

So this week's recipe is all about venison. I'm using the back strap as, for the new convert to this wonderful unadulterated lean meat, it is the easiest to cook well and needs the least preparation. Like all meat, venison needs to be well hung (and no that's not another joke). In the case of venison the hanging should be at least a week to make the meat flavoursome and soft. Proper hanging makes venison one of the best meats to eat, while insufficient hanging can put people off venison for life.

Venison is one of those rich, gamey flavours that can handle a bit of creativity in the accompanying sauce. It works well with berry fruits or in this case, high quality chocolate. The idea is to add just enough chocolate to the sauce for you to be able to smell it without really tasting it; after all we do eat with all of our senses.

Venison Loin with Chocolate Sauce and Spiced Red Cabbage

Serves 4
1 back strap (loin or saddle) venison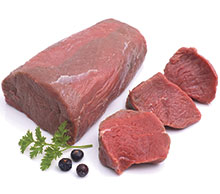 "Mire-poix" of root vegetables, e.g. carrot, onion, leek, garlic, peeled and chopped into small dice
15 ml groundnut oil
1 cup red wine
1 cup Ruby Port
1 litre game stock (or beef stock)2 pistules? bittersweet chocolate (70 per cent cocoa solids)

Spiced Red Cabbage

Serves 4–6
900g firm red cabbage
450g Granny Smith apples
225g onions
110g butter
2 garlic cloves
1/4 teaspoon each of powdered nutmeg, allspice, cinnamon, thyme and caraway seeds
275ml red wine
2 Tbsp red wine vinegar
2 Tbsp brown sugar
100g sultanas or raisins
Juice and grated rind of 2 oranges

Seasoning

Shred the cabbage finely and toss in the melted butter. In a suitable casserole dish, layer the cabbage, apple, onion and orange rind. Sprinkle each layer with salt, pepper and sugar. Pour over liquidised red wine, vinegar, orange juice and spices. Cover and bake at 190˚C for 30 minutes.

Meanwhile, sauté the 'mire-poix' in the oil until softened. Add red wine and reduce. Add port and reduce. Add stock and bring to boil. Strain through muslin in a strainer and set aside in a warm place until needed.

Pan fry venison to brown outside and retain juices. Cook in a preheated oven at 200˚C for approximately 5–8 minutes (depending on size and thickness). Allow to rest for at least 10 minutes.

When ready to serve, reheat sauce, add chocolate pistules and allow to melt slowly.

Season to taste.

Serve with loin of venison and spiced red cabbage.

Cabernet Sauvignon is a really 'red' red wine with strong tannins, high acidity, and powerful flavours which it needs to compliment the gaminess of
venison. Try the 2009 Peacock Sky from Waiheke Island, probably the best region in New Zealand for Cabernet Sauvignon.