Culinary Conversations
with Peter Blakeway
Food writer, caterer and private chef
With parents that were market gardeners, fishermen and farmers, we grew up with a strong understanding of the seasons and the anticipation of waiting for the new season's produce was almost too much to bear.
It is a fact that anything freshly picked or caught tastes wonderful at the moment of its seasonal perfection. Likewise, the absence of a particular food since the previous season makes the taste both sensational and timely.
Almost all of the food that we eat has a season – whether it is fish or fowl, fruit or vegetable – a time when it is abundant and at its best.
During the centuries understanding the seasonality of our food was vital for survival and became engrained in the cultures of the people around the world. Today, we have all but lost this accumulated wisdom in an age where technological advances and the global marketplace can bring us anything we want to eat, whenever we want it.
Today our eating habits have contracted to the point that we even limit the varieties of the species we eat, choosing shelf-life, size and price over seasonal freshness, quality of taste and nutrition. Looking through nostalgic rose-tinted spectacles, it's easy to say that times past were better in some ways; maybe in this case they were.
Nature has a wonderful way of providing us with what we need at the very moment we crave it – berry fruits in the early summer are a classic example.
So here's my challenge to you: Let's eat local and in season. As the amazing growth in farmers' markets has shown, more and more people are seeing the benefits of local seasonal food. The obvious advantage of being fresher, tastier and more nutritious is just the start. The unseen advantage is food in season requires less energy – and associated CO2 emissions – to grow and transport, supports the local economy and best of all it is cheaper.
The desire to reconnect with nature's cycles and the passing of time varies our diet beautifully and can – if we allow it – relieve us of those agonising decisions that come from having just too much choice.
Chargrilled asparagus with easy hollandaise
This is what the French do best – celebrate one perfect ingredient eaten at its prime and in season. Take a delicate flavour like asparagus and enhance it with the richness of the hollandaise.
Serves 4 as an entrée or 6 as a vegetable
Ingredients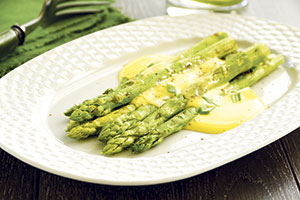 2 bunches of fresh asparagus
Easy hollandaise - makes 600ml
175g butter
2 Tbsp wine vinegar
4 Tbsp lemon juice
6 large egg yolks
A large pinch of salt
6 rounded Tbsp fresh chives, snipped
Method
Melt butter slowly in a small saucepan. Place wine vinegar and lemon juice in another pan and bring to the boil. Meanwhile chargrill or barbeque asparagus for three-four minutes. Set aside and keep warm.
Blend egg yolks in a food processor or liquidiser, then – with the motor still running – gradually add the hot lemon and vinegar.
When the butter reaches the boil, trickle this in very slowly, with motor still running until it is all added and the sauce is thickened.Stir in snipped chives.
Serve immediately with asparagus. Will also keep for up to two days if covered with cling film and refrigerated.